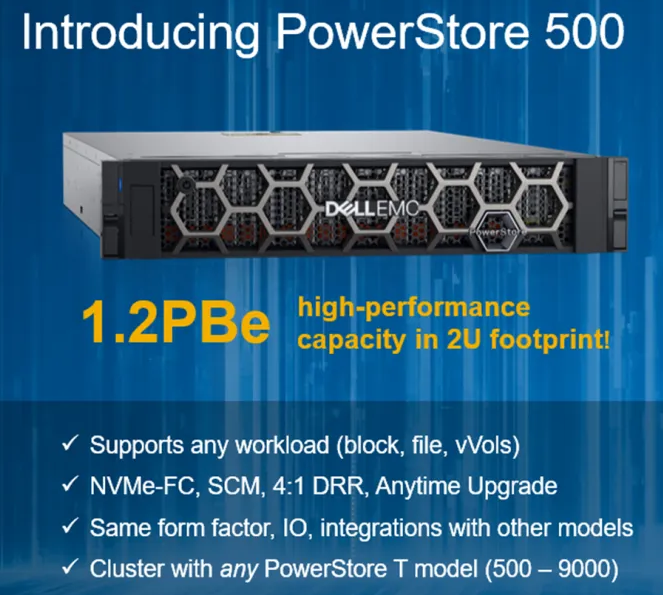 Dell is expanding the reach of the PowerStore mid-range storage platform further down-market with the introduction of the entry-level PowerStore 500T. This smaller system is aimed at competing with the lower-end storage requirements found in SMB or ROBO deployments. The system is supposed to come in around $30k for a base config with minimal storage.
With the addition of the 500, there are now 6 different PowerStore models: 500, 1000, 3000, 5000, 7000, and the 9000.
That is a lot of models! When you look across the product line, all of the models EXCEPT the 500 have the same maximum drive count, maximum capacity, port count, and feature set. The defining differences between these products come down to the DRAM, CPU, and NVRAM. In other parts of our industry, such as servers or HCI, we would have 1 model with varying CPU and RAM options. Here, however, Dell is accommodating those necessary choices through mapping them to different models, and so we end up with a lot of models, all in the same chassis and with the same software.
To drive the price point down and compete more equally in the entry-level market, the PowerStore 500 has some compromises against the rest of the lineup. Below are some details, note that "PER APPLIANCE" means per PAIR of controllers. So if you see 192GB of RAM, that means each controller has 96GB: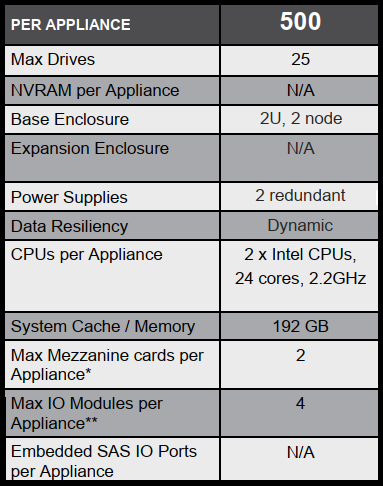 A few comments about these specs:
If you fill all 25 drive bays with the current largest drive, which is the 15.36TB NVMe SSDs, you end up with 384TB raw, which gets you to the 1.2PBe number if you apply a reasonable 4:1 data reduction rate.
You cannot add external enclosures. This array only supports the 25 drives in the base enclosure.
The PowerStore 500 comes in the "T" flavor only. Check out this postif you haven't heard about the "T" and "X" variants. This means that the PS500 will not support the "AppsOn" feature.
The PS500T supports unified deployments, so it will be able to serve up all the protocols, both block and file including SMB, NFS, FC, iSCSI, and vVOLS.
These are Intel Cascade Lake processors. Note: each controller has a single CPU. Every other model in the lineup has dual CPUs in each controller.
The 500 will cluster with any of the other models.
Up to 24 total front end ports, of which 16 can be 16/32Gb Fibre Channel
No NVRAM drives. In every other model, there are 2 – 4 NVRAM drives used for caching. The PS500 uses a more traditional DRAM based cache. This frees up 4 drive slots and is the reason a PS500T can have 25 capacity drives in the base enclosure while other models can only have 21.
The PS500T can participate in the AnyTime upgrade program. This is an add-on that allows you to upgrade your controllers to the latest models as they come out. I think the best place to learn about this is the actual program terms and conditions, which you can find here: https://i.dell.com/sites/csdocuments/Legal_Docs/en/us/dell-emc-anytime-upgrade-sd-en.pdf
One other thing that may be worth mentioning is that the PowerStore 500 also has some slightly diminished specs in terms of things like maximum block volume count, or a maximum number of vVols. Below are those details according to the spec sheet located here. In this graphic, we are comparing it to the 1000, which has the same limits as all the other systems in the lineup. Only the PowerStore 500 has different values for these specs: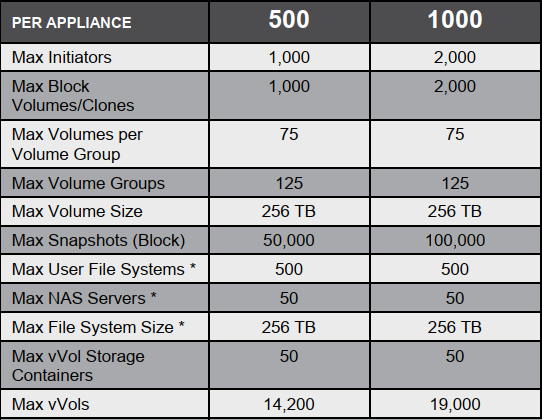 Dell announced on 4/20/21 that they would be accepting orders for the new PS500T system starting on 5/4/2021. They will actually start shipping the systems on 6/10/2021.
This new hardware will be accompanied by a new software release as well, which I will detail in an upcoming article.

My Thoughts
I think this fills a gap for small to midsize customers. A number of businesses that I work with are still perfectly content with a hybrid (SSD and spinning disk) storage array. They don't require the performance of flash storage, much less NVMe. At the same time, Dell has seemingly all but stopped investing in hybrid arrays, really pouring their resources into this new PowerStore all-flash platform. The PowerStore 500 combined with good data reduction may allow us to get businesses into a nice, modern, all-flash array without a major price premium over their previous generation storage arrays that were generally hybrid. I'm optimistic!

Find more details about the PowerStore 500 in the official Dell press releases, here:
https://investors.delltechnologies.com/news-releases/news-release-details/dell-technologies-turns-power-dell-emc-powerstore-greater
https://corporate.delltechnologies.com/en-us/newsroom/announcements/detailpage.press-releases~usa~2021~04~20210420-dell-technologies-turns-up-the-power-on-dellemc-powerstore-with-greater-performance-and-automation.htm#/filter-on/Country:en-us
What do you think about the PowerStore 500? Have any questions? Let me know!
New Dell PowerStore OS 2.0 Really is Future Ready – Click here to read more.
Share This Story, Choose Your Platform!