Streamline and optimize your IT environment while realizing the full potential of your IT investments.
As a leading provider of IT solutions and consulting services, WTG helps you minimize risk, speed your time-to-market, and realize the full potential of your IT investments. Collaborate with our highly-qualified experts who deliver real-world experience to:
Assess
Design
Deploy
And optimize your infrastructure
WTG consultants have a deep understanding of your entire infrastructure stack, and can help you seamlessly bridge any skills or resources gaps you may have within your organization. With technical certifications across multiple long-standing manufacturing partnerships, WTG delivers operational excellence within your hyperconverged, software-defined, or hybrid cloud environment.
Simplify Your Assessment Process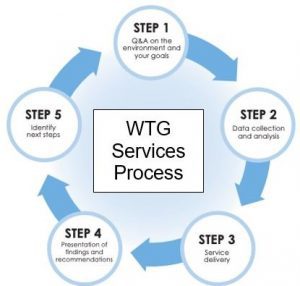 When you work with WTG, you leverage our standard methodology that has helped hundreds of companies establish proven repeatable processes, avoid unplanned downtime, and optimize IT performance.
We begin by gaining a full understanding of your motivations and expected outcomes. From there, we work through the appropriate series of data gathering and delivery steps needed to achieve ultimate success.
Optimize your infrastructure. Schedule a WTG assessment today.
WTG Service Offerings Include:
Assessment, Design, and Implementation of Data Center Solutions
HCI, Server, Storage, and Networking Services

Deployments & Upgrades
Health Checks
Performance Analysis & Optimization
Firmware & Code Updates

Data Protection

Architecture & Design
Deployments & Upgrades
Health Checks

VMware Deployment
Demos and Proof of Concepts
Block and NAS Data Migrations
Training Services
Staff Augmentation
Customize Consulting Engagements