Veeam Backup & Replication has been a go-to backup product for virtual environments for the past 15 years. It filled a gap in backup products early on by backing up VMs at the machine level and not requiring agents to be installed on the guest OS to perform most of the functionality (backups, restores, etc.)
Each new release has always been carefully crafted to have new features users have been waiting for and they have continued to push the envelope on a quality backup product further with each release.
Veeam Backup & Replication v12 is no exception… in fact, it has over 500 new features (which is likely a record!) and there are some great enhancements I wanted to highlight in this blog post.
Direct Backup to Object Storage
This is a feature that I have a lot of people ask about – you can now back up your workloads directly to object storage (Azure, AWS, Wasabi, etc.) and treat as if it was an on-prem repository. You have the ability to directly back up or create backup copy jobs (using GFS if you would like) to store these backups directly on cloud storage.
Previously the only way you could store backups on object storage was to build a Scale-Out repository and choose the tiering option (capacity tier). While this method was functional, it added complexity and reduced flexibility as far as choosing which backups you wanted tiered. In most cases this required carving out additional staging or swing space for backups to land temporarily – not an ideal option.
You can now simply create a new object repository and point your backup jobs and copy jobs to the new repo.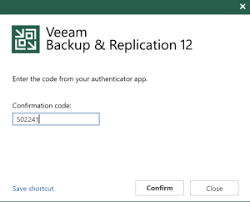 Multi-Factor Authentication
Veeam has introduced MFA for the Veeam console. This is a key new feature as it enhances the security of the backup infrastructure by introducing another (and necessary) layer of hardening to the Veeam management server.
The enrollment process is simple and consists of the standard QR code scan along with a rolling code to enter upon successful standard authentication. This will prevent a bad actor from manipulating or accessing backup data via the Veeam console. Veeam has also included support for gMSA (Group Managed Service Accounts) which allows for the use of service accounts without locally storing the credentials.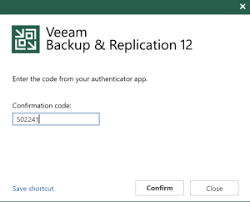 VM Move/Copy
Veeam has made it more flexible to move/copy backups between repositories and now even backup jobs! Leveraging it's VeeaMover technology, Veeam is able to move and/or copy backups between repositories and maintain the block cloning benefits – which equates to space savings.
This is particularly useful when refreshing or migrating to new backup target storage. While the process previously was a simple file copy from the source repository to the target repository, this was not the case if you were backing up to a deduplication storage device (i.e. Data Domain). The Veeam copy/move feature resolves that issue by allowing you to migrate your backups simply and without impacting the backup chains.

Best Practices Analyzer
Veeam has included a best practices analyzer in the new release that will run a series of small checks to ensure Veeam is configured securely and that best practices are followed (many of these focused around windows security). This is a useful tool and I can see this as something that will be expanded on in future updates.
Veeam continues to not disappoint with their new releases – this one is no exception. This update has been long anticipated and the new features and updates will be welcomed by the Veeam community and its users.
Veeam Backup & Replication v12 is available today, here is the press release with highlights of some of the new features.
Need assistance upgrading? Have questions around some of the new features or want to take advantage of direct-to-cloud backup? Contact your account executive!
Share This Story, Choose Your Platform!